---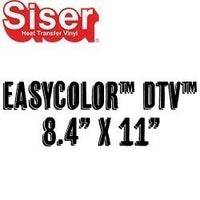 Siser EasyColor™ DTV™ (Direct to Vinyl) 
Heat Transfer mask is recommended. Larger, one-piece transfers can be applied without transfer mask.
Siser EasyColor™ DTV™ makes printing simple! Compatible with a wide variety of desktop inkjet printers and vinyl cutters, so you can print and cut full color images, patterns, and even photos with professional quality. EasyColor features a smooth, matte surface and is suitable for all colors of fabric.
Product Highlights
The product is REACH compliant, certified Oeko-tex® Standard 100 Class II, and VeganOK certified
One-piece designs do not need an application tape like TTD EasyMask
Suitable for nearly all common inkjet systems
Variable finish matte or glossy depending on parchment paper or heat resistant sheet
Very fast to weed
Application and Care Instructions
Press at 311°F/155°C Degrees for 15 Seconds under MEDIUM pressure
Peel application tape warm
Wait 24 hours before first wash. To wash, turn garment inside out, wash in cold water. Do not bleach.
Tumble dry low heat (hang dry recommended).
If ironing, do NOT iron directly on the applied image.
For use with 100% Cotton, 100% Polyester, Poly/cotton blends (not suitable for treated and dye sublimated textiles), and Elastan.
Extra Directions
Let print dry for 5 minutes.
Silhouette settings: Blade 3, Force 3, Speed 8 - Cricut Settings: Everyday Iron On
Home Iron: "Silk" setting & cover the transfer with parchment paper & iron on for 90 seconds. Remove parchment warm